I spent some time going through the The Medical and Surgical History of the War of the Rebellion and came across this case history:
Case 280. — Private William H. Hawkhurst, company G, 17th Connecticut volunteers; age 30; admitted April 21, 1863, with diarrhoea of some duration. [According to the register of the hospital of the 11th Corps this man was admitted to that hospital, then at Brooks' Station, Virginia, April 14th, and sent to Washington April 20th; no diagnosis.] Stools frequent; pulse 100, small, and quite compressible; urine normal. Obstinate vomiting was a prominent symptom. Treatment: A blister to the epigastrium, bismuth and opium, &c. The vomiting, however, continued, and the patient died April 26th. Autopsy : Body not much emaciated. There were old pleuritic adhesions on the right side ; lungs healthy. Heart slightly enlarged ; mitral valve thickened, its free edges covered with vegetations ; the tricuspid valve and the aortic semilunar valves somewhat thickened ; foramen ovale open, the opening a quarter of an inch in diameter. The stomach contained half a pint of green grumous fluid ; its mucous coat was much thickened, softened, and inflamed, the ruga; very prominent. The mucous membrane of the lower half of the ileum, and of the colon, except the transverse arch, was in a similar condition. Liver somewhat enlarged, its structure healthy ; gall-bladder distended. Spleen normal. Kidneys enlarged, their cortical portion pale, their pyramids congested. — Acting Assistant Surgeon N. C. Stevens.
I did some quick checking of the roster for Company G and could not find any soldier named William H. Hawkhurst. I did find William H. Hawks, a 30-year-old married mason when he mustered in to the the 17th. He was listed in various state publications as "William H. Hauks". Same soldier? Undoubtedly so – each entry shows him as having died on April 26, 1863, the same as his case history above does. Private Hawks is buried in the US Soldiers' and Airmen's Home National Cemetery (formerly known as the Military Asylum Cemetery during the Civil War) in grave 4054.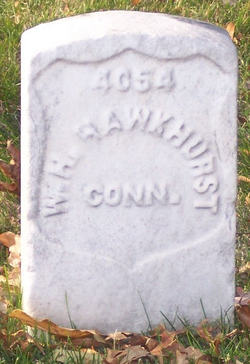 How did Private Hawks end up being listed as William H. Hawkhurst? Was he too sick to make sure that the doctors at the XI Corps hospital understood it? Was it merely a transcription error by some unknown clerk? The only place it appears that his name was written down correctly was on the Muster and Descriptive Roll in 1862 – from that point forward the name is misspelled and changed on almost every piece of documentation available.
If one of the greatest fears of the Civil War soldier was dying alone and unknown, then this case is perhaps all the more tragic. What family was left behind? Did they know how and where he died? With the Chancellorsville campaign just starting when he died did anyone write home? For nearly 150 years Private Hawks has rested as William Hawkhurst – sometimes a name is not just a name, and sometimes having a name is not much different than being unknown.