We made a quick stop in Gettysburg today – really just an overnight stop – but enough time to spend a while on my favorite place on the battlefield, which is East Cemetery Hill. I always wonder what it looked like here before Wainwright Avenue was rebuilt in the early 1900's. I got a heads up from one of my favorite online Gettysburg blogs, Gettysburg Daily, that some work to the retaining wall had cleared the old roadbed of Brickyard Lane out. Of course when I was here in late June I was (as usual) on East Cemetery Hill but never bothered to walk down to the monument on that trip. You have to look at the photos from Gettysburg Daily here to see how it looked in late June. Even now it is really starting to get overgrown once more. I didn't bother to include the one with the really high whatever it was kind of plant right in front of the monument.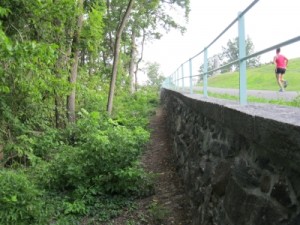 I took the opportunity to get down there to take another couple of photographs of the monument from the lower perspective in yet another attempt to line it up with a copy of a photo I was sent of the dedication ceremony in 1889. I'm curious to see if the positioning works better from the position of the old lane versus trying to do it from the modern road. Each time I look at it I wonder if the monument was moved at all during the construction of the modern road. I suppose not but who knows?
The old photo is also interesting because of the presence of a large wood structure slightly to the north of the monument at the top of the hill. Although I've tried to get some sort of conclusive proof without much luck I assume it is an 1889 version of the current (and ugly) reservoir. From what I've read there has been some sort of water supply structure at this location for over 150 or more years, so maybe that is what it is.
Anyway…a short overnight stay in Gettysburg still allows time to ponder some things that, even though you may have seen them time and time again, still gives pause and raises more questions. Questions like why is the 17th CVI monument here instead of further down the line where they almost undoubtedly were moved to prior to the start of fighting late on July 2, 1863!