I found this article in the July 9, 1938 edition of the Gettysburg Star and Sentinel (published during the 75th reunion of the Blue and Gray):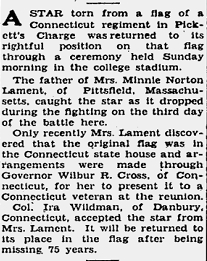 I suppose it still doesn't answer the question of whether or not the star was actually from the National flag carried at Gettysburg by the 17th Connecticut, but it still makes for an interesting story.
Also interesting? Colonel Ira Wildman was Danbury, Connecticut's last surviving soldier from the Civil War. He had served with the 5th Michigan Volunteer Cavalry, joining that regiment in 1865 as a substitute for another man and serving one year with the 5th and 7th Michigan Volunteer Cavalry. It would seem as if young Ira Wildman was in fact quite young – listing his age as 18 when in fact he was only 15 years old. After his discharge in Utah in 1866, he appears to have enlisted in the US Army for 3 years, re-enlisting in 1870 as a cavalry trooper. If in fact it is the same Ira Wildman, he  deserted his regiment, was caught and confined at Fort Douglas in Utah in 1874 before being dishonorably discharged. While Ira Wildman may not have been a colonel in the army, he was a major player in the national reconciliation between veterans North and South.
Ira Wildman made national news when he married in 1935 to a much younger woman (age 58, so not so young as others had married!), even earning a mention in the December 9th issue of Time Magazine as well as  local papers across the country. This is from "The Mansfield News-Journal," Mansfield, Ohio, on November 29, 1935:
"Blue Bird of G.A.R. a Bride — 900 see woman, 58, become wife of Veteran, 85" (Danbury, Conn.)
The "Blue Bird of the G.A.R." Mrs. Ella C. Bond of Oshkosh, Wis., has become the bride of Col. Ira R. Wildman, the last of Danbury's Civil War Veterans.In keeping with her sobriquet, bestowed on her by Civil War veterans because of her fondness for the color, the 58-year-old bride wore a gown of blue velvet. Her hair was covered by a blue lace handkerchief.
Nine hundred persons crowded into St. James church for the wedding which was performed by Rev. Hamilton Hyde Kellogg. At least two hundred more gathered outside of the church for a glimpse of the 85-year old Colonel and his bride, the niece of Gen. Ambrose E. Burnside of Civil War fame.
I guess I still have no idea as to whether or not the star ever made it back to the National colors of the 17th Connecticut…and given the fact that this flag was described as being in poor condition in 1879 when it was brought to the State Capitol on Battle Flag Day it seems unlikely, but the story is in itself an interesting one – right down to the military career of Ira Wildman. That in itself is probably worth a closer look someday. Maybe someone out there has some information on Ira Wildman, if not the fate of the star?