A new image has been added to the Rank and File section. A post-war image of Jacob Krieg (who is listed on the rolls of Company B as Jacob Kreig) was provided by descendant Phillip Dwigans.
Krieg listed his age at enlistment as 44 years old, but later census records make it more likely that he was about 52 when he enlisted. His government gravestone lists his age when he died as 87 years old – in 1897. This would make Krieg one of the oldest enlistees in the regiment. He served until he was transferred to the VRC due to disability in 1864. Krieg stated that he had been wounded at Chancellorsville upon his admittance to the New York State Soldier's and Sailor's Home in Bath, NY but there is no official record of that being the case.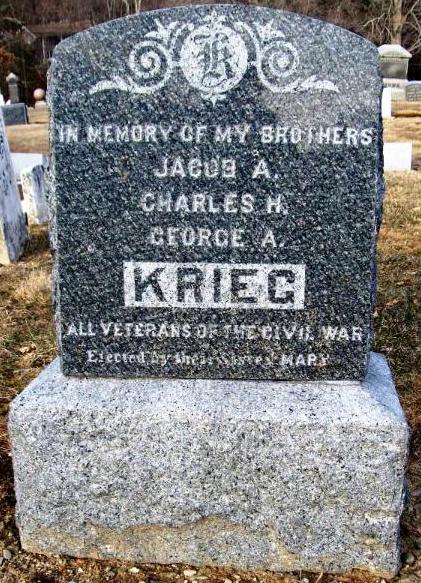 Krieg's 3 sons also served in the military during the war – something that is memorialized on a grave marker in Hillside Cemetery, Cortlandt Manor, NY by his daughter Mary. Krieg is mentioned in the Stamford Soldier's Memorial as one of those citizens who gave addresses at a rally for the Union a week after Fort Sumter. It would appear that he went the extra yard and enlisted himself the following summer.